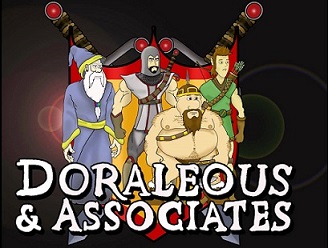 Open for Business is the first Doraleous and Associates Episode. Originally airing on the Escapist; it has since then been aired on Machinima Happy Hour, and on the channel of the creators: Hank and Jed.
Plot Summary
Edit
Doraleous assembles a group of skilled fighters and heroes which he promptly names his 'Associates'. He then hires two consultants: Broof and Walken. After cutting his first meeting short, Doraleous decides to visit the Lady in the Lake and ask for the mysterious 'Zephyr Blade'. Upon his discovery that the Lady in the Lake is a douche-bag, Doraleous and Associates head back to Doraleous Castle without a Zephyr Blade.
Continuity
Edit
The Lady of the Lake, as well as the Zephyr Blade, are mentioned and featured many more times on the show. Doraleous Castle is also featured in nearly every episode as Doraleous and Associates' base of operations. This episode introduces the Associates, the Consultants and Doraleous himself. It is the beginning of the Doraleous and Associates' legacy.
Reception
Edit
Y'know what? I thought it was decent. I have seen better D&A episodes, though. Really I only put this paragraph in to look nicer on the table of contents.